Have you ever listened to a song on YouTube that you couldn't find on iTunes or Spotify? We have all been there. There may have been many instances when you come across a masterpiece on YouTube and want it on your playlist for offline playback immediately. But after spending hours trying to find it on Spotify, you may realize there's no other option than resorting to YouTube.
Except, well, there may be one option. That's right! There is one way you can listen to your favorite YouTube music on your iPhone offline. To do so, you will need to convert YouTube videos to Music. If you are wondering how to convert YouTube videos to Music, you will need a YouTube converter to iTunes.
Softorino YouTube Converter PRO (SYC PRO) is a popular YouTube to Apple Music converter that lets you download, convert, and send YouTube videos to the Music app on your iOS devices.
That's right! And the best part about this converter is that you don't have to use iTunes during the process. It bypasses iTunes and everything in between to directly send the converted YouTube videos to your iPhone, iPad, or iPod.
So, you don't need to purchase songs from the Apple Music app anymore. You can download and send all your favorite songs from YouTube to all your iOS devices — even the first-generation iPods.
Read on to find out how to convert YouTube videos to Music.
How to Convert YouTube Videos to Music
SYC PRO is available to download on Mac computers. It comes with a free trial that you can use to download, convert, and transfer unlimited songs, ringtones, and videos to your iOS devices.
Once your free trial is up, you can purchase the app for as low as $2.92 per month, billed annually. Or you can buy Softorino's for as low as $2.92 per month, billed annually. This license gives you access to all of the 16 Softorino apps.
Follow the steps below to convert YouTube videos to Music on your iOS devices.
Step 1: Download and install Softorino YouTube Converter PRO on Your PC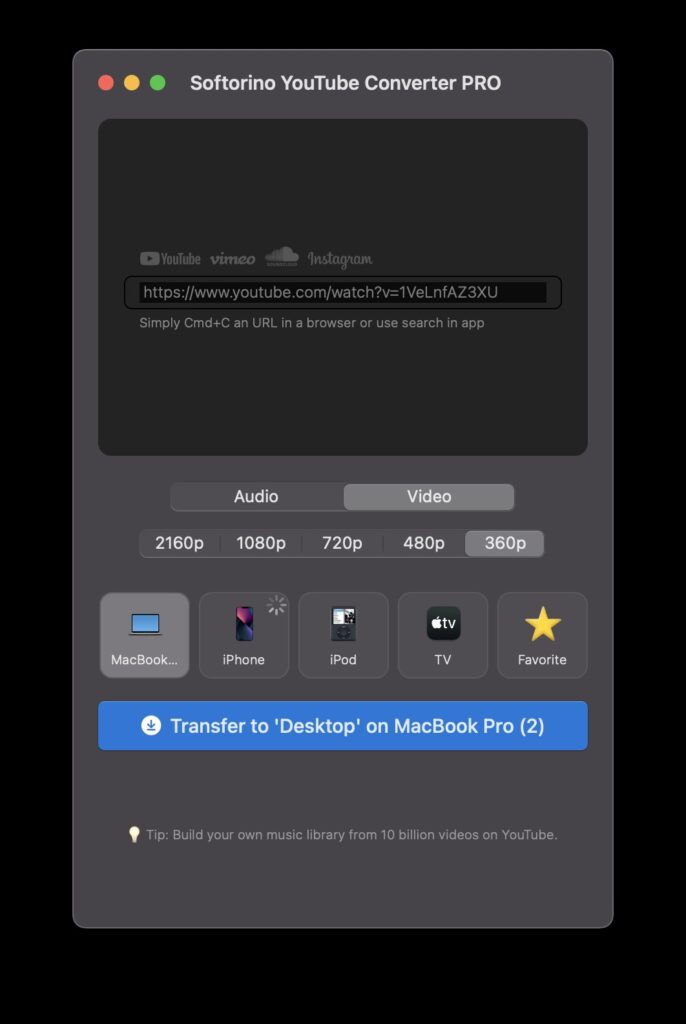 Download and install SYC PRO on your Mac PC. Once you install the app, you must activate your free trial by entering your email address. Once you enter your email address, you will receive an activation key to start your free trial. Enter the key, and you can use SYC PRO for unlimited downloads and conversions for an entire day.
Step 2: Paste the YouTube Video URL into SYC PRO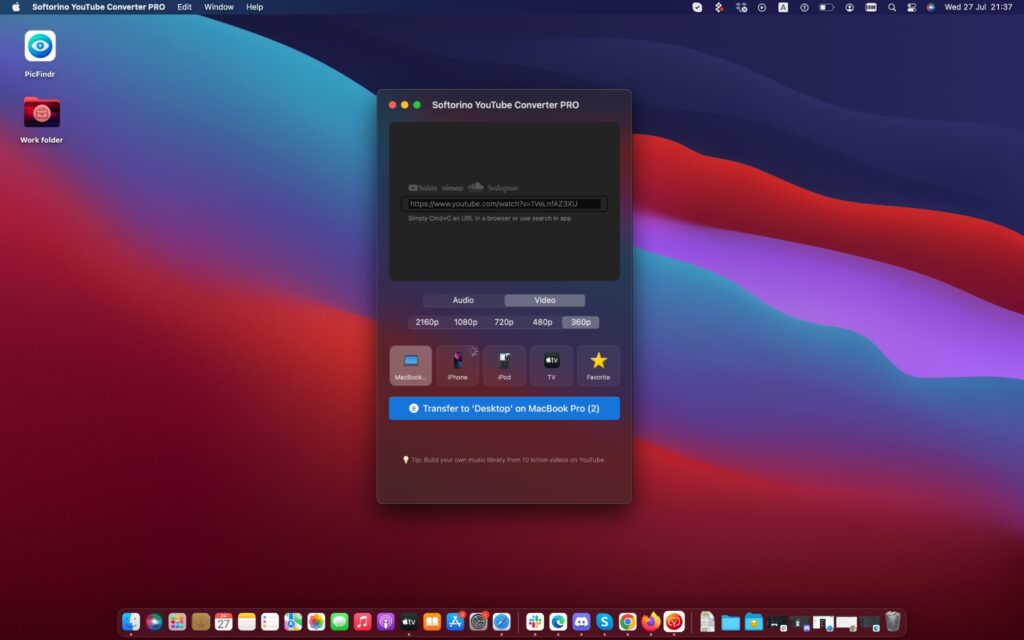 Copy and paste the YouTube video URL into SYC PRO or use the built-in Search Bar for your favorite YouTube videos from within the app.
Step 3: Convert and Transfer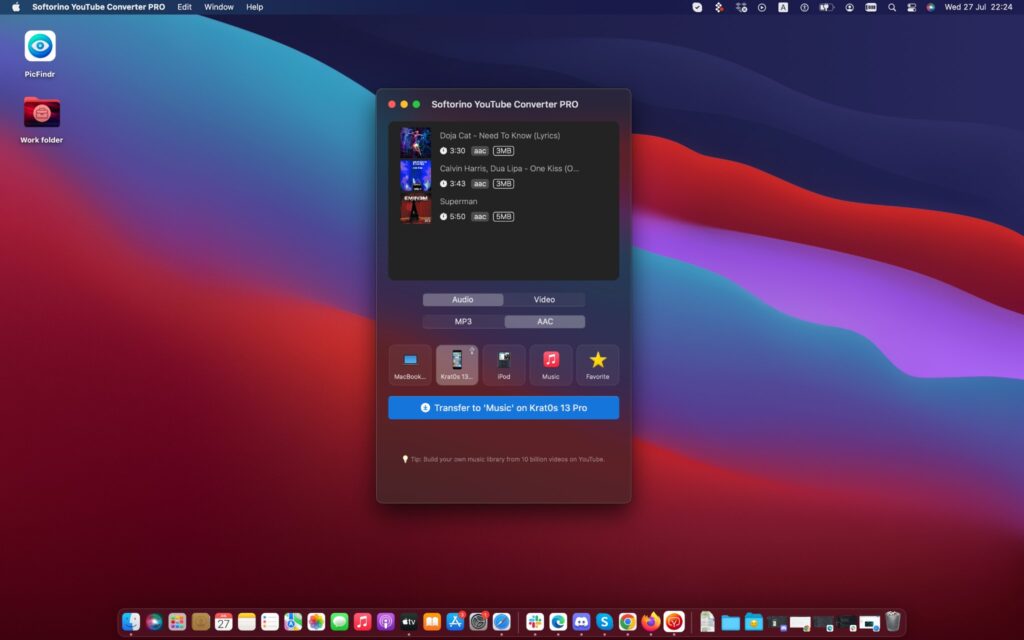 Once you have pasted the YouTube URL, click on "audio" under "Transfer to" and select "MP3" or "AAC". Next, select the Apple Music icon. Once done, hit the "Transfer" button. Your desired YouTube video will be converted, downloaded, and saved in Apple Music.
You can now play the downloaded song on the Apple Music app or even transfer the song to your iOS device by connecting it to your PC via a USB cable and selecting the device icon in SYC PRO under the "Save to" option. How simple, right?
More Than 66 Supported Platforms
SYC PRO is not just limited to YouTube downloads. You can even download, convert, and send music, videos, and ringtones from SoundCloud, Vimeo, TikTok, Facebook, Instagram, Dailymotion, and other media platforms online. Just paste the audio/video URL from any supported platforms in SYC PRO, select the conversion format, choose the destination, and hit the "Transfer to" button.
Conclusion
Now that you know how to convert YouTube videos to Music, create an offline playlist of all your favorite songs on your iOS devices. Just download SYC PRO and convert as many songs as you like. There is no need to purchase them individually from the Apple Music app when you can send them to your iOS devices for free within seconds. Try out the app today, and let us know what you think. For more options, check out our list of Best YouTube Downloader Tools.