A tablet is a portable, touch-screen device that typically has a larger screen than a smartphone and a thinner profile than a laptop. It can be used for a variety of tasks such as browsing the web, watching videos, reading e-books, and playing games. Some popular tablet brands include Apple iPad, Samsung Galaxy Tab, and Amazon Fire.
MAGCH is the name of a powerful tablet that fulfill your digital needs in 2023. If you are looking for a tablet, then MAGCH Tablet might be just what you need!
Tablets are nowadays fastly growing gadgets used for many purposes like education, personal use, business meetings, watching movies, video conferencing, and sharing photos.
Tablets are light and easy to carry and portable like mobile phones however tablets are available in a bigger size than mobile phones. This article is about the famous "MAGCH Tablet".
What is the Magch Tablet?
MAGCH tablet comes with fully loaded features, it has 10-inch screen, octa-core 1.8 HZ processor, android 11.0, and 6000 mAh battery.
What are the MAGCH Tablet Specifications?
MAGCH tablet is a tablet with fully loaded features. Through this, you can entertain your self-study well and conduct meetings.
This tablet is with 10-inch screen and octa core 1.8 HZ processor and android 11.0. let's review its features.
Hardware
It has octa-core processor with 1.8 Hz which is the powerful and high-speed processor than an android tablet.
You can perform your daily activities smoothly on MAGCH tablet as it provides smooth and decent performance. However, don't expect a superfast and multitasking features from it.
Battery Performance
It comes with 6000 mAh battery which lasts for at least 11 hours in a day however it depends on your task but the minimum battery timing is up to 11 hours after one-time charging.
Memory and Storage
The storage and memory performance is quite good. It comes with 64 Gb built in memory and you can also add SD card up to 256 gigabytes.
This is vast memory size that is far enough to store your favorite movies, music and documents and many more.
Display
When we talk about the display quality of this tablet although its display is about 10 inches term of measurement that is quite small than others tablets.
But still its looks similar to them because of its high-quality image and high-resolution display that one can never feel that its display is smaller than other.
Camera
Camera is everyone's favorite feature in android and other portable devices. The camera of this tablet will never disappoint you.
The front camera is about 8 megapixels and from which you can capture 1080 HD video and the rear face camera is about 13 megapixels.
Processor
We all aware of that every task execution totally depends on its processor speed the more is processor efficient the task execution will be fast.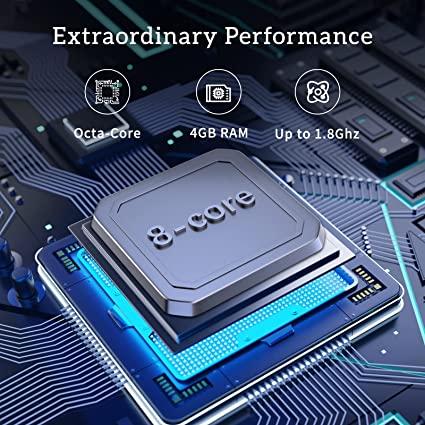 It comes with an octa-core processor of 1.8 GHz which is the most powerful and efficient processor speed and provides high battery performance.
You can easily swap between the apps and enjoy the super-fast task execution quality of this tablet.
Operating System
It has the latest android system which is android 11. This android is approved by google Mobile Service (GMS) which has the capability and testing of an Android device with google apps. That means you can easily enjoy all google services on this brilliant tablet like Gmail, YouTube, drive google maps, etc.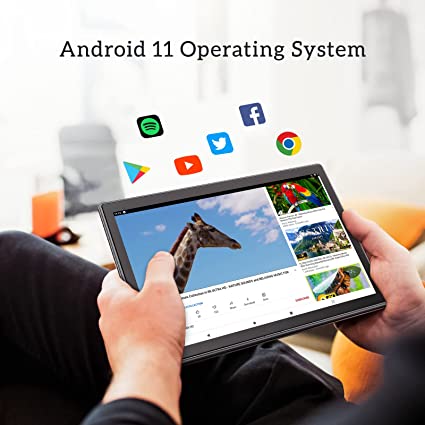 Sound Quality
The sound quality of MAGCH tablet is good. You can record sound and video with best sound quality professionally. It has dual speakers that provide best audio quality.
You can enjoy your favorite music and videos with best audio on this tablet. It will never disappoint you.
Connectivity
When it comes to connectivity, we are talking about wifi, Bluetooth, and GPS. Without internet, there is nothing possible in this digital world.
MAGCH tablet has fast WiFi connectivity feature that enable its user to connect to the digital world faster and also provide fast Bluetooth connectivity that you can share easily music and files with other and received fastly also.
Weight and Design
MAGCH tablet has 10-inch screen with best picture resolution. it's a light weight compact design portable device with wait stylish and attractive design. The MAGCH tablet is available in grey color with slim design. The weight is nearly 907 grams.
What are the Benefits of MAGCH Tablet?
It provides complete access to all the google apps you can easily avail all services of google like google maps, YouTube etc.
It is affordable portable device with best price range. With least price you can enjoy all unlimited feature of MAGCH.
High processor performance of MAGCH tablet. It provides high speed task execution because it comes with octa core processor.
You can capture high-quality images and videos through this tablet because it provides high-resolution videos and images.
This tablet uses infrared technology for connectivity through this technology you can connect your headphones wirelessly.
You can store unlimited movies, music, files, and books for reading. It has high storage capacity it comes with 62 Gb rom and 4 Gb ram. You can also add an SD card for more storage.
This tablet is all one tablet you can use for educational purposes, entertainment, and professional business meetings.
What is the Drawback Of MAGCH Tablet?
MAGCH tablet has good battery performance that is up to 11 hours and better processor speed but is it best in every circumstance?
Well MAGCH tablet is good for normal daily tasks that you can perform on it like reading news online and books, shopping online watching your favorite movies, and chatting with your friend on social media.
But it is not as superfast as you might expect it's good for routine tasks but it is not best for multitasking. It is a suitable android device for tab and add services.
Can I Use MAGCH Tablet for Gaming?
MAGCH is a good tablet for daily use but is it good for gaming or can be used for gaming? Gaming is the all-time favorite of the young generation considering this need of youngsters MAGCH tablets also supports many online internet games.
It comes with octa-core processor that enhanced the performance of the MAGCH tablets and can be used for games and many other tasks.
Can we use MAGCH as a Source of Entertainment?
MAGCH tablets are the best source of entertainment for you. It allows you to avail and enjoy all google apps.
Besides this, you can enjoy unlimited movies and music tracks whenever you want as it provides massive storage capacity. You can shop online whenever you want.
MAGCH is a dual sim tablet that keeps you connected to your friends and family whenever you want.
Apart from all these entertainment bundles, the MAGCH tablet has a good-quality image and video recording features with which you can capture your special memories and keep them with you for life. You can also play games on MAGCH tablet.
Why do we need to choose MAGCH Tablet?
Are you looking for a tablet that has all the features you need to stay productive, multitasking, and entertained? Then no need to look further than the MAGCH Tablet!
We need to choose this one because it has almost all features that other tablets are not provided. Its price is suitable and under the budget. It has a large 10 inches display that makes it more interesting. If we talk about the processor, it has octa-core processor with 1.8 GHz which makes it fast and more usable while multitasking.
Battery life is also better and running for long term. Camera quality is also good, then everything is perfect then why we don't buy this?
Comparison between MAGCH and Apple Tablet
Apple is the most famous brand in the market. No doubt apple provide the best services to its customer with sustainability and with the most ease of use.
However, there is a certain feature that MAGCH provides that the Apple iPad lack. There is a built-in USB port in MAGCH. But Apple iPad has no USB port the screen size of MAGCH is large than the iPad and most important the price apple gadgets are expensive the iPad price is about $499 and MAGCH is just $199 which is affordable for everyone.
Final Thoughts
Tablets are the most use portable device. MAGCH is one of the best tablets available in the market for you with a low prices and all features.
This tablet has long-period battery timing lasts for 11 hours and the best screen resolution and a 10-inches screen. I hope this article will be useful for you.
Frequently Asked Questions
Where Can I Buy MAGCH Tablet?
You can buy MAGCH tablets from any online market place there are different models available in MAGCH with different screen sizes and other features. You can buy MAGCH from Amazon and eBay sites.
Can I Play Games On MAGCH?
Yes, you can play different internet games. It has octa-core processor that helps to play different games fastly.