The computer background is an image, that is displayed as history on the Windows desktop. If you don't like the wallpapers offered by Windows you could add your wallpapers. You can make HD wallpapers for your PC by yourself. It's easy with VanceAI Image Upscaler. You don't need to become a skillful artist or expert to create an HD wallpaper for PC, iPhone, iOS, and more. VanceAI Image Upscaler offered by VanceAI allows you to create high-quality PC wallpapers effortlessly. In this article, we'll see how Image Upscaler can help you get HD wallpapers right before your eyes with simple clicks.
What PC Wallpapers Do People Like?
We use our computers in our daily life even though we cannot imagine our lives without this digital media device in today's modern age. The wallpaper is the first thing you see when you turn your computer on to use. Some people like to use their favorite image as wallpaper or what they are interested in. Here are some examples of wallpaper that we use to make our workday pleasing and productive.
Wallpapers to Systematize the Desktop
Some of us often rely on, say, file shortcuts, and use a desktop wallpaper to line up our files by the level of importance. This can help focus our attention on the most important tasks we need to wrap up during the day.
HD Quality Wallpaper with Colors
The use of low-resolution and dark color wallpaper seems weird. If you use such wallpaper on your mobile or PC. The other people will think that you are not a cool person when they see these wallpapers. Therefore, quality always matters. Additionally, colors make the wallpaper more attractive and comfortable to see. That's why people love to use HD-quality wallpapers with comfort and solid colors.
Nature Scenes Wallpapers
It's no mystery that natural scenes have a positive impact on the mind. So, nature lovers love to use seasonal and natural wallpaper for desktops. They like to use wintry landscapes, images of blooming flowers or gently falling dew drops or rain, photos of the beach and falling leaves or harvested crops as PC wallpaper.
Wallpapers with Motivational Quotes
Words always work. Inspiration is your willingness to do something, along with the collection of psychological leverages that compel you to act. That's why some of us love to use PC wallpapers with inspirational quotes that can work to inspire us throughout the day and night.
Pictures of Your Beloved Ones
When we are missing our family members or had a really fun tour with our friends or other meaningful events, we love to use these good memories as PC wallpapers. Keeping a picture of loved ones on a Phone or PC wallpaper is a good way to remember the good times you had with them.
Why Choose VanceAI Image Upscaler?
VanceAI Image Upscaler is created for all low-resolution images where details and textures cannot be seen clearly. Image Upscaler is designed based on artificial technology that is for all low-resolution and dull as well as blur images where details and textures can't be seen. Our photo enlarger tool works greatly and speedily to create HD images for presentations, PC wallpapers, e-commerce products, and more using AI and with the latest features in just a few seconds. VanceAI Image Upscaler can AI upscale images by detecting image textures to create high-quality resolution images with one click. This photo enlarger is easy to use with its simple interface to AI upscale images. When you need it, you can use its excellent features via any supported browser from anywhere anytime for image upscaling with AI in just a matter of simple clicks. Here is an example, by looking at this you can imagine how VanceAI Image Upscaler gets AI upscale image effortlessly.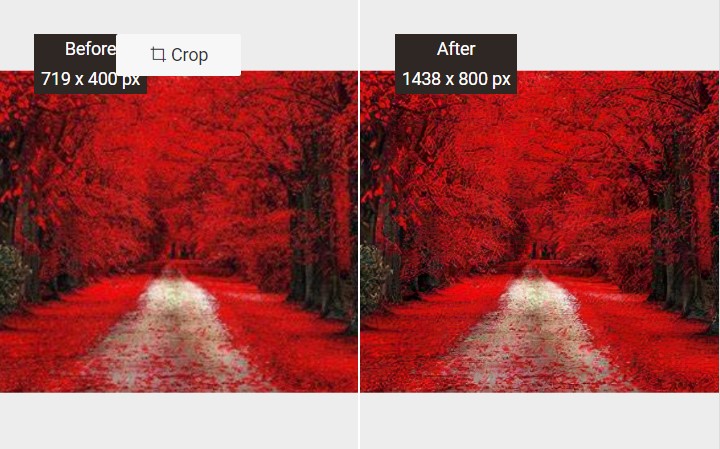 Here is another example for you.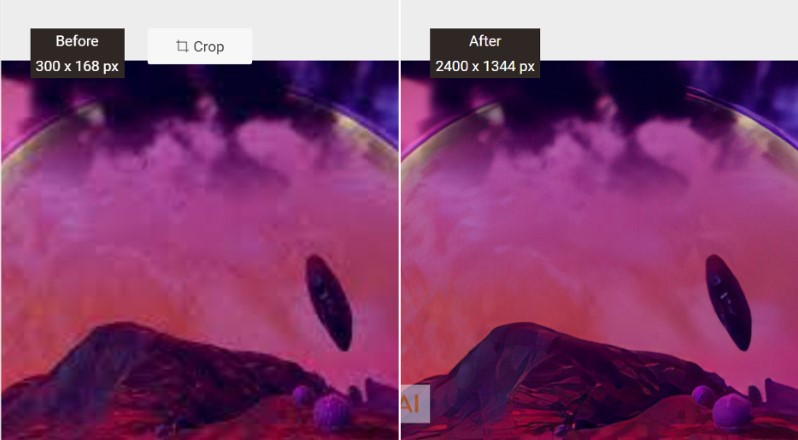 Guide to Use VanceAI Image Upscaler
It's time to unleash productivity with HD wallpapers using VanceAI Image Upscaler. You can access it via any supported browser and you can easily create HD images for your social media by using the given methods.
Method 1: Visit the Image Upscaler's Product Page
Step 1: Visit the Image Upscaler's Product Page and to import your selected file click the "Upload Image" button to upscale in any supported format such as PNG, JEPG, and JPG.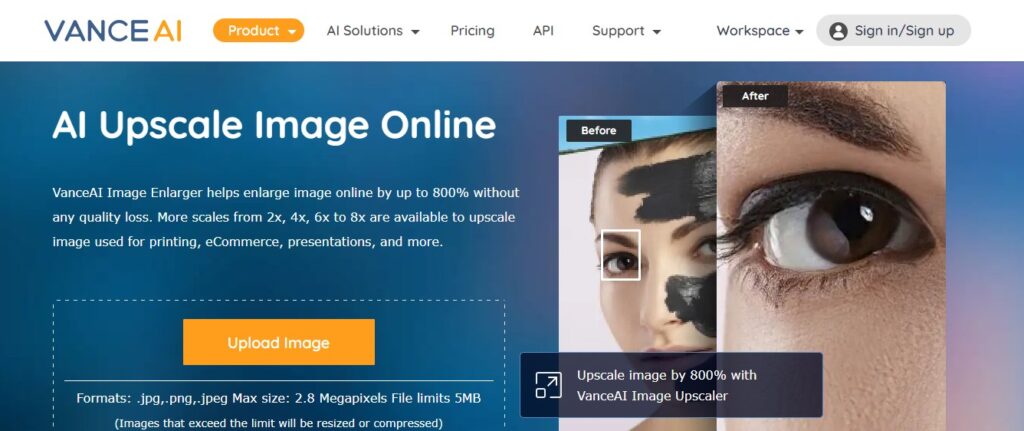 Step 2: Next, click the "Start to Process" to start upscaling image online after choosing a perfect scale. Here is a plus thing, choose the sharpen or denoise options if you need to sharpen or denoise image in addition to AI upscale on Image Upscaler's product page.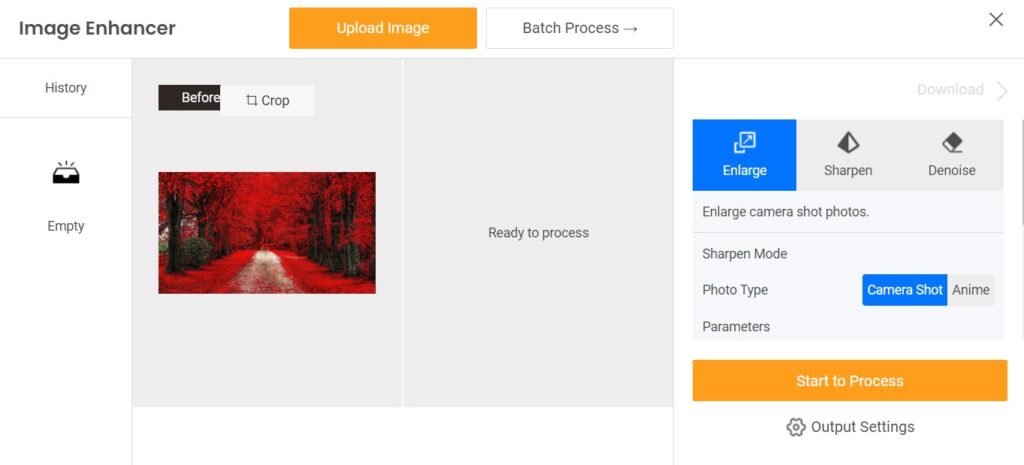 Step 3: If you are happy with the output save your HD wallpaper by clicking the "Download Image" button. These are the simple steps to Image Upscaler's Product Page to upscale image with the best quality.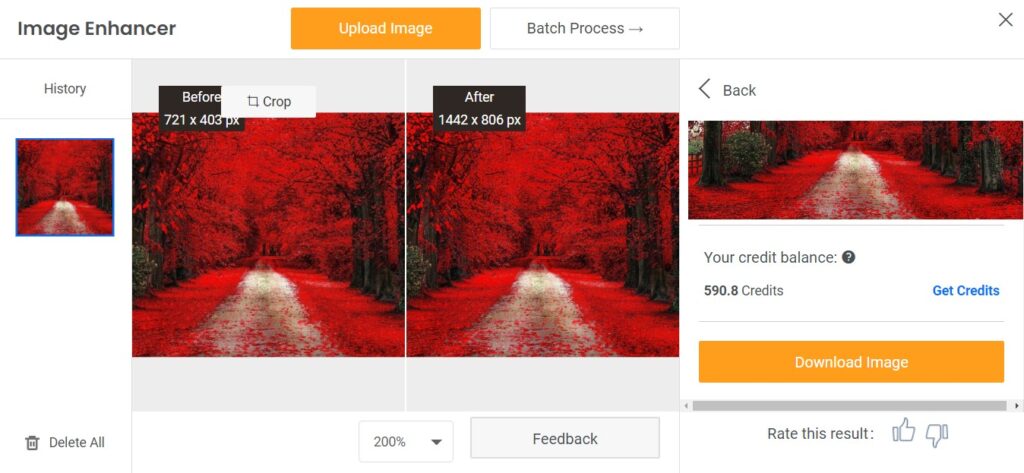 Method 2: Visit VanceAI Upscaler's Workspace to Make HD Wallpaper
The way to process your low-resolution image instantly is to visit the VanceAI Upscaler Workspace. Import the image for photo enlarging by clicking the upload button. Click the process button to start the photo enlarging process and get your HD wallpapers or any image in less than 5 seconds using Image Upscaler's Workspace.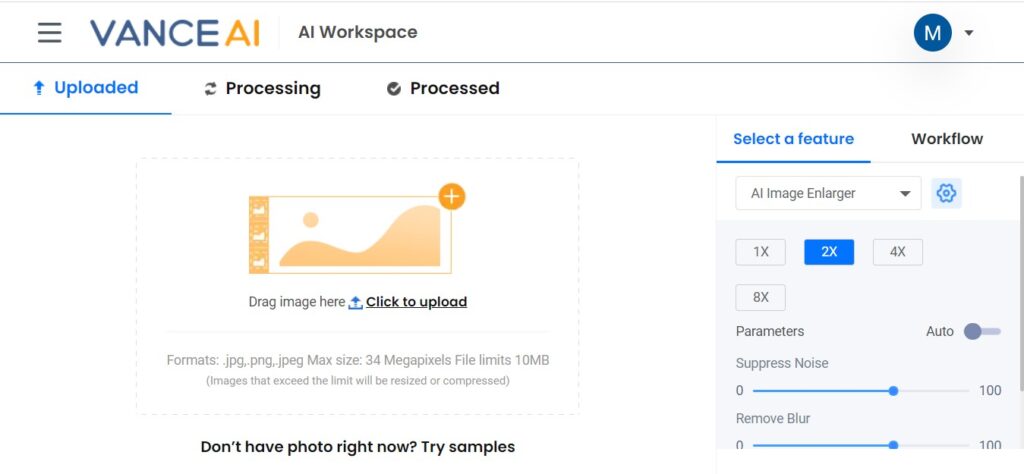 About VanceAI
VanceAI is an online site that is expert to handle real details of any kind of image with deep learning. VanceAI helps to improve your workflow, enhance creativity, and even bring happiness with HD results. Its cloud-based services are available for use on any modern browser like Google Chrome, Firefox, or Safari. All its products are online available on any operating system and hassle-free. VanceAI allows you to image upscaling with AI, removing background, restoring old photos, photo coloration, and retouching through its algorithms instead of asking for you to input. Additionally, VanceAI Image Sharpener targets blurring edges in the picture and removes blur from the picture in one click to achieve the best output. VanceAI Image Denoiser is also an expert tool to remove noise from photos to ensure image quality is enhanced up to modern standards.
Conclusion
VanceAI Image Upscaler is designed based on artificial technology that optimizes photos to their best quality by enhancing them up to 800% with simple clicks. You can use VanceAI Image Enlarger to change low-resolution images from low to HD images to make yourself more approachable on social media. Its popularity is precise that consumers can produce their ideal images without investing anything. Give a try to this AI image enlarger now to create your HD PC wallpapers quickly and efficiently with the exact output you want.
VanceAI Creativity Series Tools
VansPortrait
VansPortrait allows you to get creative with selfies or portraits and helps you to convert any photo into line drawings, line arts, sketches, cartoon arts, and anime. You can convert your favorite selfie or any portrait into cool sketches, and exquisite line arts at your fingertips with just a little bit of effort with this AI-based sketch maker. VansPortrait is an expert AI-based converter that can smartly handle portraits and can make cute anime by converting your stunning portraits into anime-style portraits or cartoon arts with vivid details and colors.
VanceAI Photo Colorizer
VanceAI Photo Colorizer is a new black and white image colorizer that allows you to colorize photos 100% automatically within seconds. Now you don't need to focus on lasso ingredients and manual brushes to colorize your photos with the AI-based picture colorizer. The surprising thing is this new product uses deep learning to automatically identify objects in your colorless before starting colorizing them.
VanceAI Photo Retoucher
VanceAI Photo Retoucher is always best for you if you want your photos to look super HD without wasting your time. This creative tool can change the resolution of any image by retouching it. It can transform from low-quality, dull and blurry images to HD in no time. Plus, it helps to keep the brightness, saturation, contrast, and hue in balance to create superb quality with realistic effects. So, you must try it to create HD PC wallpapers.