Are you worried about the lot of Pingbacks in WordPress? Now you can entirely disable Pingbacks in WordPress on existing & new posts.
First of all, let me explain that these pingbacks are helpful for your site. The answer is no; after Google's latest update, the pingbacks in WordPress are useless.
When are pingbacks shown in WordPress? When someone gives you backlinks to your WordPress site, your site gets pingbacks from other sites. It depends on whether you accept or reject it.
We thoroughly discussed how to "disable trackbacks and pingbacks in WordPress." We explained it with the help of related pictures so that you can better understand what to do.
Essential Steps to Disable Trackbacks & Pingbacks in WordPress
We divided this into two steps which you can "disable incoming and outgoing Pingbacks in WordPress". Let's take a look at incoming and outgoing Pingbacks in WordPress.
How to disable Pingbacks in WordPress on New posts
Follow the simple steps then you will be able to disable Pingbacks in WordPress on the latest posts:
Login into the website "dashboard"
Go into the "website settings."
Click on "Discussion" in "settings."
Disallow the two first options into "Default post settings."
Then click on "Save settings."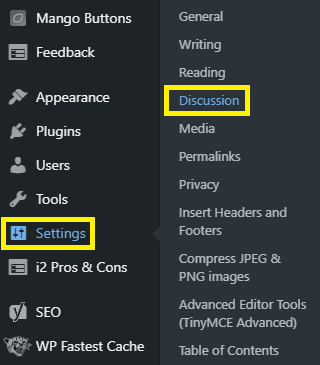 Now, you have successfully disabled Pingbacks and Trackbacks in WordPress. After disallowing these options, you will not receive any notification about Pingbacks.
How to disable Pingbacks in WordPress on Existing posts
You need to disable pingbacks in WordPress on existing posts; otherwise, these pingbacks will remain on the old posts. Follow the simple steps that are mentioned below:
Login into the website "dashboard"
Go into the "all posts."
Select "all posts."
Click on "edit & apply."
Disable the pingbacks by clicking "do not allow."
Then click on "update."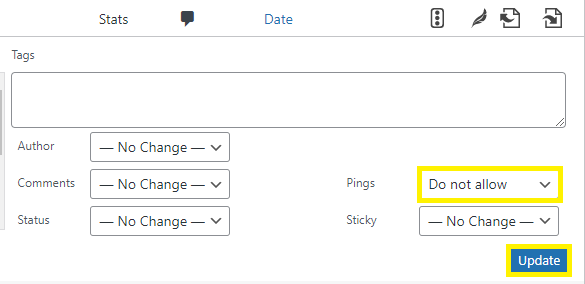 Congratulations, you have successfully disabled all pingbacks & trackbacks on existing and new posts in WordPress. Further, you can also use the WordPress plugin for disabling pingbacks. With the help of the "Disabler plugin". But we highly recommend you use a manual way to disable pingbacks. This is an easy method with any using plugin.
Why would I want to disable Pingbacks in WordPress?
Disabling Pingbacks can be beneficial for several reasons, including:
Reducing spam: Spammers sometimes exploit Pingbacks to generate backlinks, negatively affecting your site's SEO.
Improving site performance: Disabling Pingbacks can reduce server load and improve your site's overall performance.
Enhancing security: Some attackers use Pingbacks for DDoS attacks or other malicious activities.
FAQs
What are Pingbacks in WordPress?
Pingbacks are a form of notification when one WordPress site links to another. They were designed as a way for authors to be notified when other websites link to their content, allowing them to track their online presence and interactions.
Can I still receive Pingbacks if I disable them on my WordPress site?
No, once you disable Pingbacks on your WordPress site, you will no longer receive any notifications. If you want to track when other websites link to your content, you can use alternative methods, such as Google Analytics or other third-party tools.
Is there a plugin to help manage Pingbacks in WordPress?
Yes, several plugins are available to help manage Pingbacks and other aspects of your WordPress site's comments and discussions. Some popular plugins include Akismet, which filters out spam comments and Pingbacks, and Disable Comments, which allows you to disable comments and Pingbacks on a per-post basis or across your entire site.
Can I enable Pingbacks again after disabling them?
Yes, you can enable Pingbacks again by reversing the steps outlined in Q3. Remember that allowing Pingbacks will only affect new posts, and you will need to update existing posts individually if you want to enable Pingbacks for them.
Conclusion
Pingbacks & trackbacks are used to let you know if someone has linked to your blog content in their post.
Pingbacks are automatically sent when someone connects to your content
The publisher starts tracking by entering your URL in the Send Trackback field
Once found, retranslation and monitoring can be approved or traced as blog comments.
Once approved, they will be published in the comments and links section after the corresponding blog post.
Over time, most of the distractions and relapses may be spam
Pingback and trackback notifications can be disabled for future posts on your site
Pingbacks & trackbacks are good for seeing who has linked to your site, but there are high chances of spam, so we recommend disabling the pingback notifications.
Further, to have a successful website, you must enhance it with many elements. These elements range from author boxes and guest posts to coming soon pages. But of course, according to the type of website, you will pick the elements that suit it best.