It is becoming more and more familiar to receive a verification code via SMS to confirm an online account, this is the case with PayPal, WhatsApp, Facebook, Instagram, and several messaging applications, social networks, and e-mail services.
If you want to hide your personal phone number then why not use a virtual phone number (disposable number)? That is the purpose of this article, here is a way that allows you to create a virtual number and get an online SMS to bypass the OTP (One-Time-Password).
With this method, you can use services such as WhatsApp, Facebook, Gmail, and Telegram using a fake phone number from the USA or France, even you can create Texas Fake ID while living in a completely different country. Isn't that great? So, let's start.
What is a virtual number?
A virtual number differs from a traditional phone number in that it has no physical SIM card and is not connected to a standard phone line. A virtual phone number is hosted in the cloud and is not directly linked to your device or location.
Even so, a virtual phone number allows you to do all the things you normally do with a traditional phone number. In other words, you can make and receive calls or receive text messages. Even better, you can do this not only from your phone, but also from your tablet or computer.
But today we will talk about virtual numbers specifically for receiving text messages. These numbers are only used to receive text messages from different websites or applications. Usually this type of service can be applied if you need a large number of accounts, such as WhatsApp, Facebook, Telegram, Gmail, Tinder and others.
SMS verification service: what is it and how does it work?
SMS verification services provide virtual numbers for a set period of time to receive SMS online.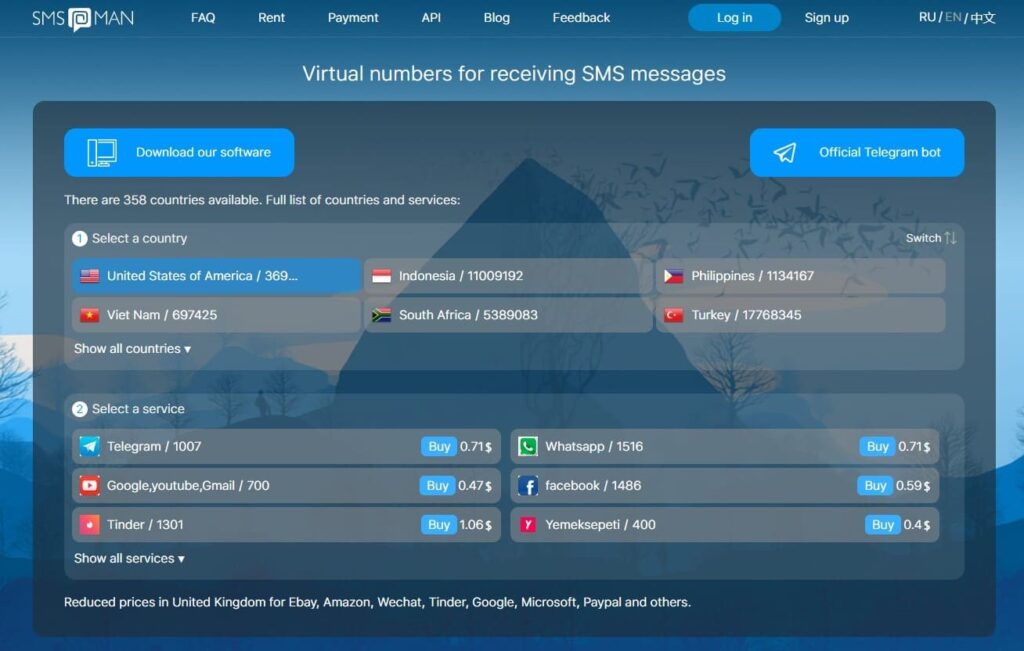 The owners of SMS verification services enter into direct agreements with the mobile phone service providers. In this case, the SMS service provider connects to the provider's services, through which the sim card data is routed.
This option is only used when the number of numbers is high. When they are insufficient, additional sim card banks or GSM gateways are connected. Technologically, the implementation is not complicated, and the cost is not high.
A virtual phone can be rented for a specific task or bought out for a few days or hours. However, renting for a specific service is considerably cheaper. For example, to sign up for WhatsApp, Telegram, Instagram, Facebook and others.
How to create a virtual phone number for SMS
If you want to get a virtual number, the process is quite simple:
1. Register an account at sms-man.com.
2. Choose the country of the mobile number you want to get
3. Then select the service where you want to verify the mobile number and click the purchase button next to it. 3.
4. If you don't have enough money on your balance, the system will ask you to top up your balance. You can do it in the tab "Pay" using any available payment system.
5. After purchase, virtual number will be automatically added to your personal cabinet.
6. Copy it and paste it into the application where you want to register (e.g. WhatsApp or Telegram).
7. When SMS is sent, go back to SMS-man website and click "Receive SMS" in your personal cabinet.
8. Copy this code! Now all that remains is to complete the registration by entering it when prompted in the app