EasyPaisa is mobile wallet account in Pakistan this is one of the most used and popular wallet accounts that is used for transactions across Pakistan and you can also make transactions to other countries through this mobile account.
Not just Telenor network can make transactions and can account on this but also other network users can create their account to avail EasyPaisa services.
In case you need urgent cash but don't have it or if your account credit is going to end soon and you need to do urgent transactions then you can also get loan from your easy paisa account. The amount you borrow from EasyPaisa account will be immediately transferred to your account and you can use it.
If you don't know how to apply for loan and how to get loan from EasyPaisa app then here I will tell you about the complete method.
How to Get EasyCash Loan from Easypaisa App? Step-by-Step Guide!
Here we will discuss the complete method to get loan from EasyPaisa app. Follow below easy instructions to get a loan successfully.
Install the EasyPaisa app from Google play store. The app is compatible with android and iPhone.
Now navigate the home menu and search for the tab "Easy Cash Loan".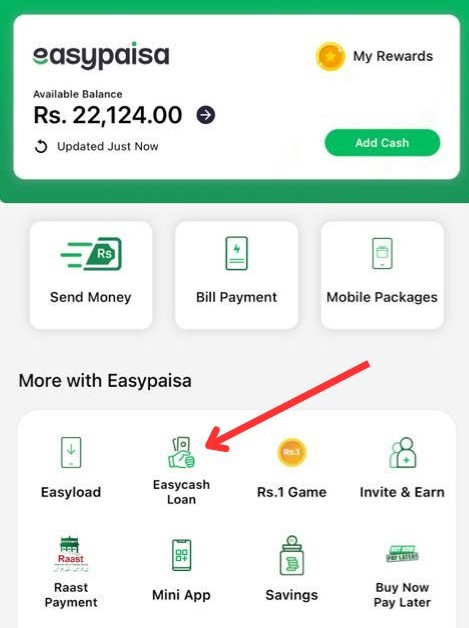 Now choose your status married or single and provide the detail of your spouse like name and occupation etc.
After that choose the amount that you want to get loan. Tab on the next button.
Review the cash details and press the "Get Easy Cash" tab available on screen.
This is the easy method to use for getting loan from EasyPaisa using an app.
Requirements to Get Instant Loan from Easypaisa App
To get an instant loan from Easypaisa app, you can follow these steps:
Install the Easypaisa app on your smartphone and sign up for an account.
Complete your Easypaisa mobile account registration by providing the required information, such as your CNIC number and other personal details.
Once your account is activated, tap on the "Loans" icon on the home screen of the app.
Choose the loan amount and the repayment period you want.
Provide the required information and documents, such as your employment details and bank account information.
Once you have submitted the loan application, it will be reviewed and processed by the Easypaisa team.
If your application is approved, the loan amount will be instantly transferred to your Easypaisa mobile account or your linked bank account.
It's important to note that eligibility requirements for loans may vary depending on the lender and loan type. Also, before applying for a loan, it's crucial to read and understand the terms and conditions of the loan to avoid any surprises later on.
Can I Get EasyPaisa Loan from Another Network?
You can create an EasyPaisa account on other networks like ZONG, Ufone, and JAZZ. You are able to get loan even if you are other network users. But for other networks you are not able to get loan by using EasyPaisa code. But you can easily get loan by using the above-mentioned method by using app.
What are the requirements to get loan?
EasyPaisa can provide you loan and you can get the loan by simply dialing an EasyPaisa account code or by using app. But there are certain requirements and limitations. The loan is only transferred and you are only to be able to apply for it is your account's 90 days' usage is in better condition and fulfills the terms and conditions of the account balance.
Frequently Asked Questions
For how long can I get the EasyPaisa loan?
EasyPaisa loan or personal loan you can get for seven, fourteen and for thirty days. the tax will be apply respectfully and if the loan is not paid within 30 days, then the extra charges will be applied which will be 5% extra.
Can other network users get EasyPaisa loan?
Yes, the other network users can also get EasyPaisa loan if they need. They can apply for the loan through EasyPaisa app but they does not get loan through code.
What is the easy loan cash limit?
The normal limit of an EasyPaisa loans is from 200 to 10000. However, the level of your account matter if you upgraded your account then you can apply for a 50k cash loan but there are certain terms and conditions for that your age must be 21 to 57 and you have at least more than 13 thousand income per month.
How long does it take to get a loan from EasyPaisa?
The time it takes to get a loan from EasyPaisa may vary depending on the lender and the type of loan. However, generally, you can get a loan instantly or within a few hours of submitting your loan application.
How do I repay my EasyPaisa loan?
You can repay your EasyPaisa loan through your Easypaisa mobile account or your linked bank account. You can also repay your loan through the EasyPaisa app or by visiting an EasyPaisa agent.
Final Summary
EasyPaisa wallet account is widely used in Pakistan for making everyday transactions. You can use the EasyPaisa app and also navigate the account through code that is *786#. This article will help you get a loan from an EasyPaisa account by using the EasyPaisa app. You can also get loan by code if you don't have an app or internet connection. But the other network users can get the loan only by using app. I hope this article will be helpful for you thanks for visiting.