Tapmad is one of the leading entertainment providers with different languages and different video formats. You can watch different shows, sports, and live coverage of different events on this service provider. It is a kind of everybody's cinema where they can enjoy their favorite content. It can be accessed by making a subscription. If you want to unsubscribe and don't know how to do it, then today, we will guide you with an easy method so you can easily unsubscribe to the Tapmad TV subscription.
How to Unsubscribe from Tapmad TV?
Here, we explored the two methods that will help to unsubscribe from Tapmad TV:
Method 1: Using Your Mobile Phone
No matter whether you are a Jazz, Telenor, or other network user, following the below method, you can easily unsubscribe from Tapmad TV using your iOS or Android phones.
Visit the official Tapmad app on your mobile phone and sign in or log in to your account.
Navigate to the available menu list by sliding the app to the right. Click on the "User Profile" from the given menu options.
As you click on the profile option, you will see the unsubscribe tab below the date of birth tab. Click on this tab to unsubscribe to the Tapmad TV.
After clicking on the tab, a pop-window will be displayed on your screen. Confirm it by tapping on "Yes."
After that, you will receive a subscription message from Tapmad in a few minutes. In this way, you can easily unsubscribe to the Tapmad services.
Method 2: Using Calling to Representative
If you don't want to try the above method, you can also try another method for un-subscription: helpline.
You can contact the helpline by Tapmad TV, "021-35155511," and ask a customer representative to cancel your subscription.
Is Tapmad Can Be Used for Free? (Common Question)
Tapmad TV provides services to entertain Pakistani citizens at a cheap subscription rate. Still, some free services are offered by Tapmad, including popular Pakistani news channels, dramas, and regional channels, including Indian TV channels, etc.
There are nearly 80+ channels accessible for free on the Tapmad TV app. If you want to see more, subscribe to monthly basic and premium packages, 100 PKR and 299 PKR, respectively.
This TV app can be accessed through nearly all devices like iOS, Android, web, and Samsung. It can also be played on Android TV and Samsung TV easily.
Comparison Between the Basic and Premium Subscription On Tapmad TV
Here's a comparison between the primary and premium subscriptions on Tapmad TV:
Tapmad TV Basic Subscription: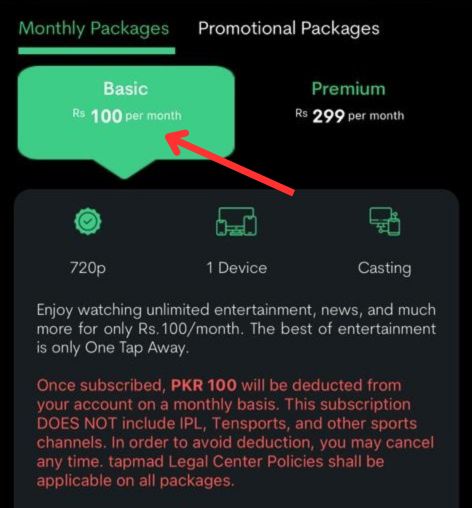 Cost: The basic package costs 100 PKR per month.
Content: Users gain access to limited channels, expanding the choices over the free version.
Quality: The essential subscription supports 720p resolution, ensuring users have decent video quality.
Device Access: You can access your subscription on only one device at a time.
Casting: The essential subscription allows users to cast their content from one device to another (like a TV), making it a convenient option.
Tapmad TV Premium Subscription: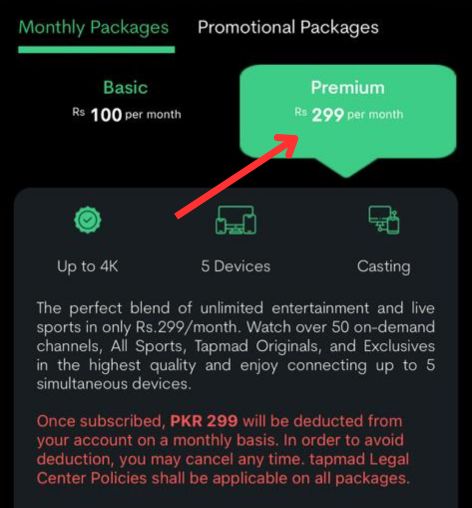 Cost: The premium package is priced at 299 PKR per month, significantly higher than the essential subscription, but brings additional perks.
Content: Like the essential subscription, premium subscribers can access 80+ channels.
Quality: The premium package supports up to 4K resolution, offering superior video quality for users with devices capable of displaying 4K.
Device Access: With the premium subscription, you can access Tapmad TV on up to five devices simultaneously. This is particularly beneficial for families or individuals with multiple devices.
Casting: The premium subscription also supports casting so you can watch your content on a larger screen.
Top 5 Competitors of Tapmad TV
Here are the top 5 best competitors of Tapmad TV; you can use instead of this:
Netflix: As the world's leading subscription service for watching TV episodes and movies, Netflix is undoubtedly a significant competitor in the streaming space, even though it does not offer live TV streaming. Netflix has steadily increased its regional content library, potentially affecting Tapmad TV's viewership.
Amazon Prime Video: Amazon's streaming platform offers a vast library of movies, TV shows, and original content. Though not specifically a live TV service, its wide range of offerings and competitive pricing make it a contender in the streaming market.
ZEE5: An Indian video-on-demand service run by Essel Group via its subsidiary Zee Entertainment Enterprises, ZEE5 has expanded its service to international markets, including Pakistan. It provides both TV shows and a variety of other entertainment content.
iFlix: iFlix is a free and subscription video-on-demand (VOD) service focused on emerging markets. Its availability in Pakistan and its focus on localized content make it a potential competitor.
Jazz TV: Another Pakistan-based streaming service, Jazz TV allows users to watch live TV, movies, and shows, providing services similar to Tapmad TV. Its local focus and ties to Jazz, a prominent telecom company in Pakistan, make it a relevant competitor.
FAQs
What are the subscription charges for Tapmad TV?
There are two primary plans for subscribing to Tapmad TV: one is essential, and the other is premium. The basic is Rs100/month, and the Rs299/month is premium.
Tapmad can be used on?
Tapmad is device-friendly as well as user-friendly. This app can be used on Android phones, iOS, Huawei, desktops, and Samsung.
Is Tapmad free to use?
Tapmad has limited channel offers for its users to watch different channels. It offers nearly 80+ channels which include national and regional channels as well.
How to unsubscribe from Tapmad TV?
You can easily unsubscribe from Tapmad TV by simply clicking on your profile, tapping the unsubscribe red button, and confirming it with "Yes." You will receive an unsubscription message shortly.
Final Verdict:
Tapmad TV is a mini cinema for Pakistani people where they can watch unlimited national regional and international dramas, movies, and sports channels on a monthly subscription. If you want to cancel your subscription, then this post will lead you to the way. I hope this information will be helpful to you. Thanks for visiting.