Moving to a new home can be highly stressful. There are many details to coordinate – packing up all your belongings, renting a truck, finding movers, and getting everything unloaded and set up in your new place. It's enough to make your head spin!
That's why hiring local movers is one of the smartest decisions you can make when relocating. Local moving companies have the experience, manpower, and equipment to handle all aspects of your move efficiently and affordably. Here's why using local movers is the way to go.
They Know the Lay of the Land
Local moving companies are familiar with the area – they know the best routes to take and can identify potential problems or pitfalls in getting your belongings from point A to point B. For example, they'll know to avoid certain streets prone to heavy traffic at certain times of day or shortcuts that can shave time off your move.
Movers who operate locally will have established relationships with local officials and permits if needed. This inside knowledge helps ensure your move goes smoothly and on schedule.
Convenience of Proximity
The proximity of local movers to your home makes the process much simpler. There's no waiting for a moving crew to drive in from hours away; local movers are usually ready to work immediately.
This also makes any last-minute add-ons or changes to your moving plan easy to accommodate. If you realize you have some extra items to move, your local movers can quickly swing by to pick them up.
Additionally, having movers close by provides peace of mind in case any issues arise during the moving process. They can quickly dispatch someone to help resolve problems.
Flexibility and Availability
One of the most significant advantages of hiring local movers is their flexibility and availability. Moving dates and plans can change – local companies understand this and are willing to work with your schedule.
Whether you need to move a few weeks earlier or later than initially planned, local movers have more availability to accommodate these shifts. Companies that operate regionally can't provide the same last-minute scheduling flexibility.
Having movers close by provides more options for rearranging timelines when needed. This alleviates a lot of the stress of moving.
Lower Costs
Opting for local movers is often more affordable than hiring long-distance movers. There are no fees for the movers to travel to your location from miles away. And less travel time means lower hourly rates for the work.
Some belongings may have to be shipped ahead of time for a long-distance move. This requires extra coordination, more packing materials, and shipping fees. Local movers avoid these additional expenses by having everything trucked from your old home to your new home in one trip.
Hiring local movers cuts out unnecessary charges, keeping the overall costs lower. The savings add up, especially for more significant moves.
Better Communication
Clear communication is key for any relocation to go smoothly. When movers are located in the same area as you, it's easier to communicate directly as needed.
You can meet with local movers to voice any concerns and align on a plan before the move. Getting status updates and checking in with questions throughout the moving process is also simpler. This improves coordination and understanding of what to expect.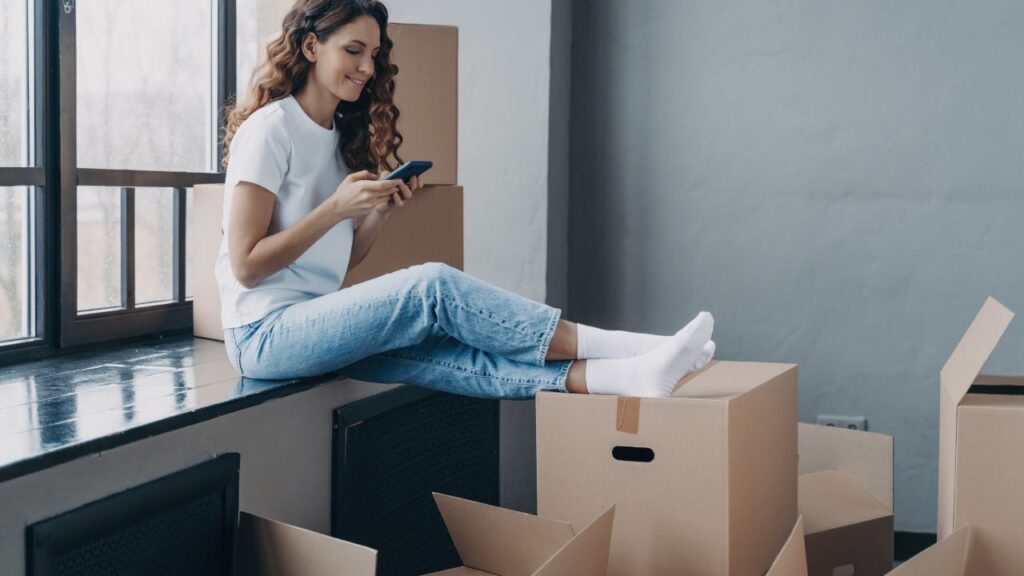 Having movers nearby makes it easier to resolve any miscommunications that crop up. Issues can be addressed quickly, avoiding major problems down the road.
Familiarity with Local Roads and Regulations
Moving always entails navigating local roads, permitting, and parking regulations – things that local movers are already well-versed in. They know the intricacies of maneuvering trucks through local neighborhoods.
Companies familiar with the area will understand parking restrictions and street sizing to select appropriately sized moving vehicles. They'll also know how to obtain local permits if needed.
This familiarity saves time and headaches when navigating your belongings from point A to B. The last thing you want to deal with is traffic delays or permitting issues on moving day!
Ability to Visit In-Person for Estimates
Getting an accurate moving quote is crucial for budgeting and planning your relocation. Local movers have the advantage of being able to provide in-home estimates after visiting and inspecting your home in person.
They can see firsthand how much stuff needs to be moved, taking measurements and assessing accessibility. This information allows local companies to supply detailed quotes, reducing the chance of surprise charges on moving days.
For long-distance movers, visiting a home before providing a quote is often impossible. Their estimates may require revisions if the actual moving dimensions differ from initial assumptions.
Licensed and Insured for Protection
Reputable local moving companies are licensed, bonded, and insured. This protects you and your belongings throughout the moving process. Proper licensing verifies they adhere to industry regulations and standards.
Insurance coverage provides reimbursement in the unlikely event of loss or damage to your items. Ensure that a mover's insurance covers the total value of your household goods.
Using correctly licensed and insured local movers reduces risks and provides recourse if any possessions are damaged. You gain peace of mind knowing your items – and investment – are protected.
Customized Moving Process
Each moving situation is unique – and local movers have the flexibility to customize their process to your specific needs.
Maybe you need extra help packing specialty items like artwork or antique furniture. Or perhaps certain boxes require climate-controlled transport. Experienced local companies can accommodate these requests.
Local movers also set their crews based on the size of your move. Their familiarity with the area and hands-on experience allow them to determine optimal workforce and truck requirements.
The personalized service produces a smooth move tailored to your home and belongings.
Familiarity Working in Local Homes
Home layouts and designs vary by region – so having movers accustomed to local homes is an asset. They'll know techniques for maneuvering staircases or basement exits, for example, common in area houses.
Local companies will experience challenges specific to regional homes, like moving in snow during winter. Their familiarity helps plan the packing and transport strategically.
Movers who regularly serve local homes develop specialized skills for navigating the homes' layouts. This makes your move faster and prevents issues like damaged walls or door jams.
Better Attuned to Regional Weather Patterns
Inclement weather can wreak havoc on moving days. From heavy snow in the Northeast to rain in the Pacific Northwest, local movers are attuned to regional weather patterns and know how to work around them.
They may recommend shifting the date if the forecast calls for all-day rain during your scheduled move. Companies based outside the area won't have as strong of a grasp on upcoming weather impacts specific to the region.
Local movers have likely moved many customers under similar weather conditions. They can prep accordingly with protective equipment or adjustments to the moving process. Their experience with local weather helps keep your belongings safe.
Licensed and Familiar with State Regulations
Interstate moves must follow federal regulations, while intrastate moves adhere to state-specific requirements. This includes factors like insurance minimums, permitting, and record-keeping.
Local moving companies consistently operate within one state and know the ins and outs of the regulations. Long-distance movers may not be as familiar with the nuances of each state's rules.
Sticking with local movers reduces the risk of non-compliance with state moving regulations. Make sure to verify their licensing and insurance within the state.
Supporting Local Business
Using local movers supports small businesses and stimulates the local economy. The revenue stays within your community rather than distributed to a giant national corporation.
Local companies are also invested in maintaining a solid reputation in the community, especially regarding moving services. Providing quality service encourages future referrals and repeat business from neighbors, so it's essential to consider Qualities for Choosing a Moving Company when selecting the right one for your needs.
You can feel good knowing you're helping boost local commerce. Your business strengthens companies that employ residents in the community.
Better for the Environment
Local moves require fewer transportation miles, reducing carbon emissions from moving trucks. If you opt for long-distance movers, your items may be transferred between multiple trucks through the route.
Using local movers means one straight shot from your old home to the new one. This is a greener option that minimizes the environmental impact of your move.
Many eco-friendly local movers take additional steps like using biodiesel fuels and recycling packing materials. Inquire with companies about their sustainability initiatives.
Easier to Get Recommendations
Nothing provides peace of mind like firsthand positive reviews from other locals. With national chains, you may get generic online testimonials that are hard to verify.
However, local movers rely heavily on referrals and word-of-mouth within the community. Ask neighbors, coworkers, realtors, and community groups for recommendations of reputable local movers they've used.
Check online reviews, too, being sure to look at region-specific ratings. This helps surface reviews from other people in your area.
One-Stop Service
The best local movers act as accurate concierge services. Rather than just physically moving items, they handle the entire moving process from start to finish.
Look for companies that offer ancillary services like packing and unpacking, storage, and junk removal. This simplifies coordination and keeps your move contained to one service provider.
Some local companies extend their services even further – helping organize utilities, connect appliances, assemble furniture, and more after unloading. Opting for these one-stop movers can significantly reduce the work on your end.
Personalized Experience
You're just another client moving from point A to B with significant national brands. Local movers provide a more personalized service that treats you like an individual.
Smaller teams allow local movers to give more customized care and attention throughout the process. They'll learn your name, understand specific needs, and ensure a smooth experience.
The tailored approach relieves stress and gives confidence that your belongings are in good hands. Plus, you'll work directly with movers invested in your local community.
When it's time to pick up roots in a new city, relying on local movers makes the transition seamless. Their insider knowledge and familiarity with the locale provide peace of mind. Local companies have an unparalleled understanding of the neighborhood landscape and specialize in addresses in the area.
Choosing local movers means no waiting weeks for an out-of-town team to dispatch. These companies work where you live, with the flexibility to adapt to last-minute changes. Their personalized services and expert navigation of local regulations and roads lead to an optimized move.
So next time you need to relocate locally, do what countless other satisfied customers have done. Hire local movers, sit back, and let the experts smoothly guide your possessions to your new home. Explore this guide to use moving service for more insights.
Frequently Asked Questions
Why should I hire local movers instead of a national company?
Local movers will have more familiarity with the area, lower costs since they don't have to travel far, and greater flexibility for last-minute changes. They also invest more in their reputation locally.
How do I find reputable local movers?
Ask friends, neighbors, realtors, and community groups for referrals. Search online reviews specific to your city. Check that companies are appropriately licensed, bonded, and insured.
What questions should I ask when comparing local moving companies?
Ask about their licensing, insurance coverage, cost estimate process, experience moving locally, extra services offered, and sustainability practices. Get a detailed in-home estimate.
What is the typical cost to hire local movers?
Costs vary based on move size, services needed, distance, and region. Expect to pay around $100-$150 per hour or $500-$750 minimum. Get in-home estimates to compare pricing.
How soon in advance should I book local movers?
Ideally, 4-8 weeks before your move. However, local movers have more availability to accommodate last-minute schedule changes if needed.
Can local movers handle long-distance moves?
While they specialize in local moves, some will do long-distance relocations. Expect higher costs and less flexibility, though. Stick with national movers for long-distance moves.
Final Thoughts
When relocating to your local area, hiring professional local movers is the best way to ensure an efficient, stress-free move. Their familiarity with the region and customized services lead to a smooth transition into your new home. Choose local and let the experts handle the hard work for you!