Facebook has been a leading and popular social media platform for many years. People worldwide can join this social interacting platform to share their beautiful life moments and thoughts. Your Facebook friends can comment on your posts by writing comments, emojis, videos, and photos. As a Facebook user, you will know that Facebook does not allow directional downloading or saving of videos. This is the same for all posted and comment section videos. But if you want to save or download your favourite video from the Facebook comment section, we will tell you a complete method for both pc and mobile users.
How to Download Video from Facebook Comment?
Below are the two authentic and proper ways to download a video from the Facebook comments section and share it on other platforms or your profile.
Method 1: Download the Facebook comment video on your PC:
This method will lead you to download or save videos on your PC from the Facebook comment section.
To download videos from the Facebook comment box on your PC using your browser, you must install the Chrome extension first.
The BVD Chrome extension can be used to download videos from the Facebook comment box, so download and install this extension first on your Chrome.
After installing this extension, navigate to Google Chrome and sign in to your Facebook account.
Now go to the post or comment video you want to download, and you will see a download option on that video comment.
Click on that, and you will be landed on a new page with a download option. Click on that tab, and in a few seconds, your video will be downloaded to your PC.

Method 2: Download Facebook Comment Video On Phone:
If you want to download a comment box video on your Android phone, you can also do so by following the below instructions.
To download video on your Android phone, install the Opera mini browser on your Android device from the Google Play Store.
Launch a browser on your device and log in to your Facebook account by providing credentials.
Navigate to the post you want to download or save the video from and click on the video or play the video.
The pop-up will be shown on your mobile screen as you click on the video. Click on the download tab there, and downloading will start soon.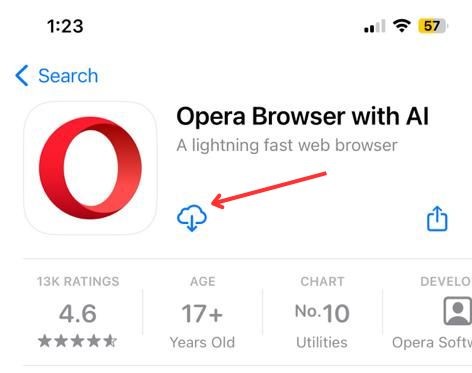 Note: This browser can be used for saving videos from private groups. The method for that is also the same as above.
How to Install Chrome Extension on a PC?
If you don't know how to install an extension on Chrome browser, then follow the below steps:
Open the Chrome browser on your computer.
Go to the Chrome Web Store by clicking on the "Extensions" menu button in the top right corner of the browser.
Search for the extension you want to install using the search bar. For example, search for "Blob Video Downloader" or "Grammarly".
When you find the extension you want, click "Add to Chrome" on the extension's page.
A pop-up will appear asking you to confirm you want to add the extension. Click "Add extension".
The extension will now be installed. A small puzzle piece icon next to the address bar indicates the extension is enabled.
To access the extension's options and features, click the puzzle piece icon and select the extension from the menu. This will open the extension in a new browser tab.
Configure the extension's options, such as turning features on/off, linking accounts, etc.
The extension is now fully installed and ready for use in Chrome. It will remain installed even if you quit and relaunch Chrome.
To uninstall an extension, return to the Extensions menu and click the trash can icon next to the extension name. Confirm you want to remove it.
Let me know if you need any clarification on the steps! Installing extensions is fairly quick and easy in Chrome.
How to Install Opera Mini Browser on Android?
Here is a step-by-step guide on how to install the Opera Mini browser on your Android device:
Open the Google Play Store app on your Android device.
In the search bar, type "Opera Mini" and press search.
The top result should be the Opera Mini web browser app. Click on it.
On the Opera Mini page, click "Install."
The browser will begin downloading and installing onto your device.
Once installed, you can open Opera Mini by clicking "Open" on the app's Play Store page or finding it in your Apps drawer.
When you first launch Opera Mini, you may be prompted to allow necessary permissions like access to storage, location, etc. Grant whatever permissions you are comfortable with.
Opera Mini will open a page welcoming you to the browser. Click "Get Started" to begin browsing.
You can visit web pages by entering URLs in the search bar at the top or searching for sites directly.
To customize Opera Mini, click the menu button (usually three horizontal lines in the top right corner) and choose "Settings".
In Settings, you can change the default search engine, enable night mode, clear history, and more.
Once set up, Opera Mini will now be available as a browser option on your Android device whenever you want to access the internet.
Let me know if you need any help with the setup process! Opera Mini is a fast, customizable browser for Android. Further, you can check a list of top Android phones supporting Opera Mini Browser and other games like PUBG Mobile.
FAQs
Can I download the video from the Facebook comment box?
Facebook does not allow direct downloading or saving videos; however, you can use different browser extensions and browser downloaders to save videos from the comment box.
How do you download videos from the comment box on Android?
Opera mini browser can be used to download videos from the comment section. Download and install Opera browser, log in to your account, and navigate to the post where you want to download the video. Open the video, and you will see the pop-up with the download option. Click on it, and downloading will start.
What types of videos can I download from Facebook comments?
You can download any video formats users have uploaded in comments, including MP4, MOV, AVI, etc.
Does downloading videos from comments reduce their quality?
No, the downloaded videos are the same quality as originally uploaded. Facebook does not compress or alter the video quality.
Can I download videos from comments on Facebook Pages in addition to personal profiles?
Yes, you can download videos from comments on any public Facebook Page or Group just as you would on a personal profile.
Is downloading videos from Facebook comments legal?
It is generally legal to download videos uploaded by users who consented to sharing them publicly. You should not redistribute or reuse videos without permission.
What if the video I want to download from a comment has been deleted?
Unfortunately, if the video is no longer available in the comment, it is impossible to retrieve and download it. The ability to download depends on the video still being present.
Is there a limit to how many videos I can download from comments?
There is no set limit by Facebook, but you may be temporarily restricted if you download many videos very quickly.
Final Verdict:
Facebook does not allow saving videos from it. Many downloaders and third-party apps help you download videos from Facebook. If you're interested in exploring these options, check out our Facebook Video Downloader Tools list. This post will help you download a video from the Facebook comment box. I hope this post will be helpful to you. Thanks for visiting.