Are you looking to transform your balcony into a stylish, comfortable outdoor haven? Boulevard Outdoor Furniture has got you covered! We bring you the latest trends in outdoor furniture at great prices, ensuring top quality and timeless appeal. In this blog post, we will explore our top 3 balcony furniture sets that embody a perfect blend of design, comfort, and durability.
Vaan Balcony Set / Breakfast Dining Set: The Versatile Choice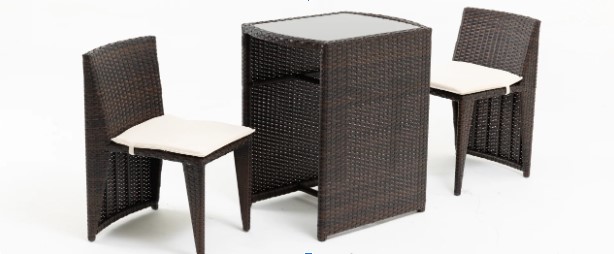 The Vaan Balcony Set is an impeccable choice for those who desire versatility in their outdoor space. This 3-piece synthetic rattan wicker weave tuck-in balcony set is perfect for breakfast or intimate dinners under the stars. The set comprises two side chairs with comfortable seat cushions and a rectangular dining table with a tempered glass top.
Crafted with a powder-coated aluminum frame, polyethylene (PE) rattan resin wicker weave, and polyester outdoor fabric upholstery, the Vaan Balcony Set is designed to withstand the elements while retaining its natural ruggedness. The polyurethane foam with biocide treatment cushion filling ensures maximum comfort and longevity.
Gisborne Patio Conversation Set: Elegance Meets Comfort

The Gisborne Patio Conversation Set is ideal for those seeking elegance and comfort. This 5-piece leatherette patio conversation set features one outdoor tea table and four outdoor dining armchairs, making it perfect for lounging and enjoying conversations with friends and family.
Constructed with a powder-coated aluminum frame and high-density foam with fiber topper cushion filling, the Gisborne Patio Conversation Set guarantees durability and comfort. The SPRADLING® outdoor vinyl leatherette upholstery and ethylene-vinyl acetate (EVA) rope armrest feature give this set a sophisticated touch to elevate your outdoor haven.
Seyphelles Balcony Set: The Luxurious Retreat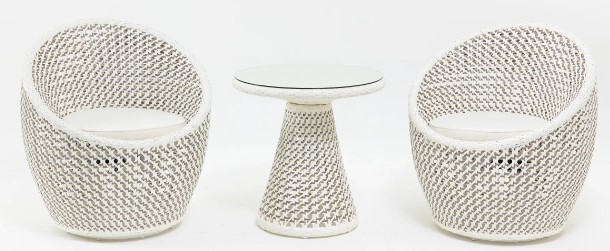 Step into luxury with our iconic Seyphelles Balcony Set, meticulously handwoven in our signature weave that echoes the charm of an outdoor oasis. Inspired by modern, minimalist design traditions with a playful twist, this 3-piece synthetic rattan wicker weave balcony set consists of two outdoor swivel lounge chairs and one round outdoor side table.
The Seyphelles Balcony Set boasts a precision-welded marine-grade aluminum frame with Henkel BONDERITE® pre-treatment, AkzoNobel Powder Coating, and premium WinTech® high-density polyethylene (HDPE) resin poly peel wicker. With high-resilience polyurethane foam cushion filling and 100% solution-dyed outdoor polyester fabric upholstery, you can expect heirloom-worthy furniture that delivers exceptional comfort and durability.
Caring For Your Outdoor Furniture: Tips for Longevity and Style
Boulevard Outdoor Furniture is designed with durability in mind, but some simple care tips can further prolong the life of your investment. Here, we share expert advice on preserving the beauty and functionality of your outdoor haven.
A. Regular Cleaning And Maintenance
To keep your furniture looking its best:
Establish a routine for regular cleaning and maintenance.
Remove dirt, debris, and stains promptly to prevent material damage.
Use a soft fabric or brush and mild, non-abrasive soap mixed with warm water to clean the synthetic rattan wicker weave, aluminum frames, and upholstery.
Rinse thoroughly and allow the furniture to air dry completely.
B. Protecting The Cushions
The cushions on your Boulevard Outdoor Furniture are designed to withstand outdoor elements. Still, storing them away during harsh weather conditions or prolonged periods of disuse is a good practice. Doing so will protect the fabric and filling from excessive wear and tear, prolonging their lifespan.
C. Shielding From Sunlight
Although our furniture sets are crafted with UV-resistant materials, prolonged exposure to direct sunlight can cause fading and discoloration. Consider using a patio umbrella or shade sail to protect your furniture from the sun's harsh rays. This added layer of protection will ensure your outdoor haven remains vibrant and visually appealing.
Tips For Creating A Cohesive And Inviting Space
Now that you're familiar with Boulevard Outdoor Furniture's top balcony furniture sets and how to care for them, it's time to explore ways to create a cohesive and inviting outdoor haven. Here, we share expert design tips to help you maximize your outdoor space and showcase your beautiful Boulevard Outdoor Furniture.
A. Define Your Space
Start by defining your outdoor space and its intended purpose. A clear vision will guide your furniture selection and layout, whether aiming for a cozy dining area or a comfortable lounging spot. Consider available space, natural elements, and desired functionality when planning your outdoor haven.
B. Incorporate A Color Scheme
Choose a color scheme that complements your Boulevard Outdoor Furniture and the surrounding environment. Use accent pillows, cushions, and outdoor rugs to introduce a pop of color and tie together the various elements of your space. Selecting a harmonious color palette will create a visually appealing and inviting atmosphere.
C. Add Greenery
Incorporate plants and greenery to add life and vibrancy to your outdoor haven. Select plants that grow in your specific climate and consider their maintenance requirements. Place potted plants around your furniture sets, or install hanging baskets and vertical gardens to create a lush, refreshing oasis.
D. Lighting Solutions
Adequate lighting can elevate your outdoor space's ambiance and functionality. Use string lights, lanterns, or solar-powered fixtures to create a warm and inviting atmosphere. Consider the layout of your area and the desired mood when selecting lighting options.
E. Layer Textures And Patterns
Incorporate various textures and patterns to add depth and visual interest to your outdoor haven. Mix and match materials such as synthetic rattan wicker weave, leatherette upholstery, and outdoor polyester fabric to create an engaging and comfortable setting. Combining different textures and patterns will make your space more dynamic and inviting.
Conclusion
Transforming your outdoor space into a stylish and comfortable haven is an exciting journey that begins with selecting the perfect furniture. Boulevard Outdoor Furniture offers the ideal blend of quality, design, and durability with our top 3 balcony furniture sets. By following our expert tips on maintaining your furniture and creating a cohesive and inviting atmosphere, you'll ensure a beautiful and functional space that will be the backdrop for countless memories.
Don't wait any longer to create the outdoor oasis of your dreams. Visit Boulevard Outdoor Furniture today and discover our exquisite collection of heirloom-worthy pieces that elevate your outdoor space. It's time to invest in your perfect outdoor haven and experience the unparalleled comfort, style, and durability of Boulevard. Contact us today!