Having a really tough time finding lost contacts or people online?
We very well know that the world is very huge, and manual searches that take hours won't be able to do anything if you are there looking out for someone. Thus, we always suggest our readers consider using a program that makes their task of finding people easier.
Given its excellent people search engine, Find People First is the one that can help you whenever you are in need of a service that can make the process easier for you. Are you still confused about how it can help you?
If yes, then in this article, you will know it all. Make sure to keep reading till the end!
Defining Find People First
Find People First is a people finder site that allows its users to locate genuine people on the Internet with the help of its specialized search engine. With just a tiny bit of information, you can learn a lot about anyone. You can check a person out by last name, phone number, address, etc.
You even can search for yourself in order to find out what data is available about you on the web. The service enables you to learn more about the person with whom you are digitally communicating without engaging in an in-depth conversation with them. Additionally, the platforms assist in protecting you from potentially dangerous persons by disclosing information about those individuals.
Information that you can find on this site includes:
Background check
Current address
Vital Records
Phone number identity
Criminal records
Contact numbers
Age
Date of birth
Court records
Arrest records
Traffic tickets
What Are The Factors Used For Finding People On Find People First?
To begin, an individual must add some information to the people finder in order for it to retrieve the necessary and related data.
You can enter information about the person in question in the search bar, such as their full name, current or prior location, phone number, or contact details. Then, further, move to the 'Start Search' option and click to find out personal information. Below we have explained how each of the data that you enter can be of help in finding the real person.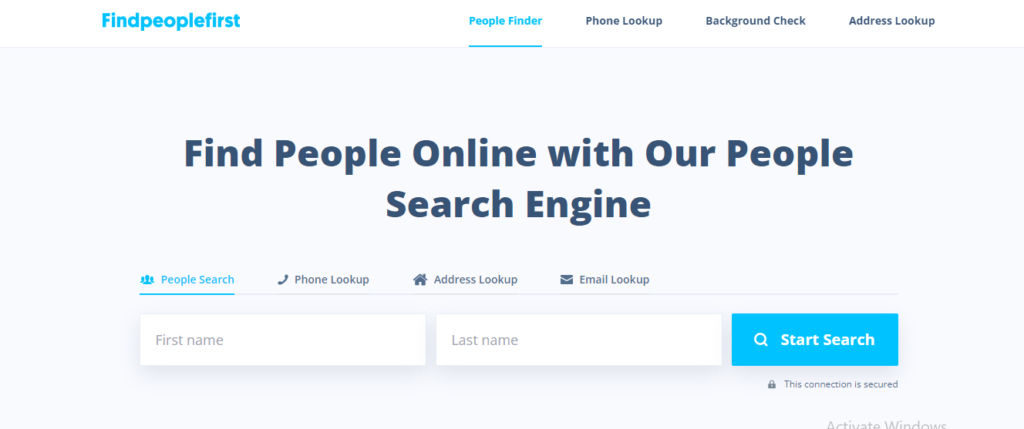 Location
The location of the subject is used to narrow the search queries provided by a people finder tool. When searching for people, a location is not a stand-alone criterion in the same way that an address or complete name is. It is entered in conjunction with a name, which streamlines the information provision process and makes the search procedure more efficient.
Full name of the person
It is possible to use Find People First to locate a person by entering both their first and last name. Single-name searches may not produce refined or accurate results, especially for more popular names.
Contact number
The search engine is able to assist in identifying an individual by running a reversed phone number lookup, which reveals the individual's contact information. When conducting a search, a person's name is looked up in various databases, such as phone directories and public records, in order to obtain as much information as possible on that person.
Benefits Of Conducting A People Search Using Find People First
The people search can be done for many reasons and advantages. We have mentioned some of these in the following section.
Get to Know Your Neighbors and Pals
A person's identity and history can be revealed through a search, which is useful whether you're getting to know a new neighbor or someone you've just met. It's a great way to get to know someone before directly asking them about themselves.
Find People First is used not just by private detectives but also by relevant authorities such as local government offices and departments. You can trust the results you get from this search engine, which includes detailed personal information like current and previous residences.
The location history feature helps identify and find people. This search can be useful for pursuing runaway cases in which an individual is on the move and attempting to outrun the law.
Is there any of your family members or long-lost friend that you have lost contact with? Are there people in your life you'd like to reconnect with, like old friends or lost love? If yes, then you can just surf through this site and click to find out the personal information of those contacts.
After losing contact with a loved one or friend, it used to be very difficult to find them again. However, with these people's search engines, you can now conduct an online search from the convenience of your own home. Find People First has simplified this process for all of us with just a click. The users can take advantage of the site's people search functionality, which utilizes public documents to compile a complete picture of an individual of interest.
There are a lot of public records and information about almost everyone in the world, which is a huge benefit of such a site. You can use them not just to track out a lost friend but also to keep your secret life under wraps.
You can do a search for yourself on any of the relevant sites and verify the accuracy of the results. In addition, a search for your information can reveal whether or not a third party is fraudulently exploiting your identity. You and your loved ones will be safer as a result of this, and it will also help you maintain your privacy.
Last Words
Hope that this review article has got you completely informed about the Find People First website. There are a lot of reasons why you might need to use this search engine, and hence, keeping that in mind, they have ensured to create an easy-to-use interface for its users. Accessing the information you require from this site will be simple and quick, along with the fact that your personal information will be protected.